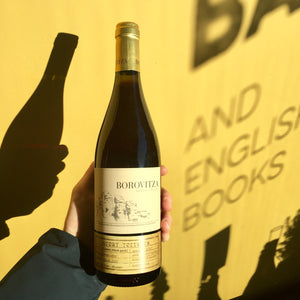 Dark ruby colour, cherries, sweet plums and red berry in the nose, pure and jucy in the mouth. Light body red with lovely acidity and juiciness.
Enjoy it with tortillas, Greek salad with feta, tomato sause pastas.
Delicious when slightly chilled.  
100% Gamza (Kadarka/Cadarca) grape.
Alc 12,5% 
48 years old vineyard, organic agriculture, harvest by hand. Fermented in open vessels with native yeasts, moved with gravity to oak barrels for ageing. No filtering, no fining. 28 months ageing in Bulgarian oak barrels.
600 bottles made of the 2019 vintage. 
Made by Adriana Srebrinova in the village of Borovitza, Vidin region, North-Western Bulgaria. Borovitza ia a cult boutique winery located near the town of Belogradchik in North-Western Bulgaria.