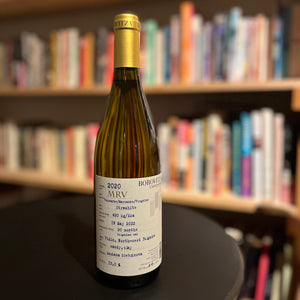 Nectarine, spring flowers, hazelnuts, almonds, vanilla. Round full body white with refreshing accidity and a long mineral finish. 
Try with fried trout, roasted chicken, creamy goat cheese, salad with almonds, creamy pastas.  
MRV stands for Marsanne, Rousanne, Viognier grapes from a single vineyard Strazhite with old sand/stone/clay soil. Harvested by hand, all three varieties fermented together with native yeasts, aged for 20 months in old Bulgarian oak. 
Alc. 13%
Made by Adriana Srebrinova in the village of Borovitza, Vidin region, North-Western Bulgaria. Borovitza ia a cult boutique winery located near the town of Belogradchik in North-Western Bulgaria.