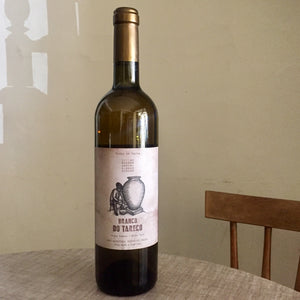 White blossom and dried peach and pineapple aromatics. Dry, rich, nutty, precise, light amber/orange wine with fine tannins. 
Try with different kinds of tapas or antipasti, shrimp or sushi.
Grapes - Antão Vaz, Diagalves and Perrum
Vineyards location - Parish of Vila Alva, Alentejo southern Portugal.
Average vineyard age - 30 years
Average productivity - 4 tons/ha
Harvest - manual, with low capacity recipients
Wine making - total destemming and slight crushing. Fermented with maceration and contact with the masses for two months in clay pots called Talhas (localy known as Tareco), without temperature control and with indigenous yeasts. Filtration occurs only through the passage of the liquid through the masses present in the Talha.
Produced quantity - 1500 bottles
Alc - 12,5%
Winemaker: XXVI Talhas (Mestre Daniel).
"Adega Mestre Daniel is the cellar of Daniel Parreira's grandfather. Daniel is a civil engineer based in Lisbon, but he grew up in the village of Vila Alva, which once boasted some 70 cellars. Daniel decided to restore the family cellar, which still has its 26 original talhas (some over 100 years old). He recruited childhood friend and winemaker Ricardo Santos to provide the winemaking skills. Their first vintage together was 2018. The wines are exceptionally precise and pure. Two talha brancos are bottled in small quantities -  much of the wine is served and drunk direct from the talhas".  Simon J Woolf, Amber Revolution, second edition.