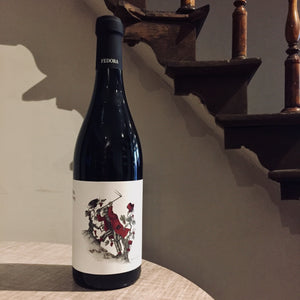 Deeply violet colour. The nose is young and fruity. Rich aromatics of ripe raspberries, strawberries and black fruits. Juicy, with deep taste, dense texture and velvety tannins.
Try it with roasted beef, venison and mature cheeses. 
45% Merlot, 30% Cabernet Sauvignon, 25% Refosco grapes, harvested by hand, spontaneous fermentation with native yeasts, fermented for 30 days in contact with the pomace. Aged for 12 months in old 225l oak barrels. No sulphure added untill bottling. 
Fedora, Kobal family, Vipavska brda, western Slovenia

FEDORA'S STORIES

We enjoy wine. It makes us ponder, take pleasure, remember. We tell stories of Fedora and of the history of our family and our home. Are they true, altered, or fake? We let you be the judge. Every wine has its own story.
Limping man.
A long time ago, a man with one leg shorter than the other lived in the village. You could hear the sound of his dragging leg long before he came by your house. People felt uncomfortable meeting him and would hide every time they heard him approaching . But one autumn was ripe for a change. At the annual wine competition in which the whole valley participated, a mysterious wine was declared winner. To everyone's astonishment it was the limping man's sweet grape nectar. In the following days, the surprised villagers secretly followed him and were taken aback once again. They discovered the limping man had a secret vineyard on a rugged steep hill which could only be tamed by him thanks to his shorter leg. From that day on, respect for the mysterious winemaker grew and people greeted him, tipping their hats. In his honor we named one of our wines Goli Breg (the name of a steep hill with Fedora's vineards).
Fedora. House of Indigenous Wines.