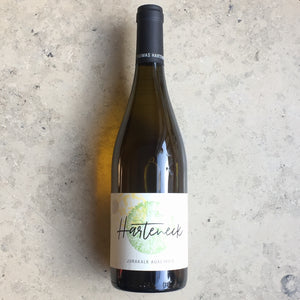 Pure natural wine. Buttery, with cool mineral notes, wild plum (Reine Claude), hay and lemongrass aromatics. Mineral, juicy, vivid. 'Himmel und Erde in Wein gegossen!'
Place/soil/terroir: loess soil with Jura limestone subsoil.
Harvest by hand at cool temperature, on fruit days according to the lunar calender.
Winemaking: 2/3 whole cluster with slow pressing, 1/3 24h maceration and aging in wood, 9 months on lees with occasional Bâtonnage, no fining, no filtration, no sulfure added. 
Alc. 13%

Winemaker: Thomas Harteneck

Certified biodynamic, working with nature under the strict guidelines of DEMETER.

Place: Baden, south of Germany.