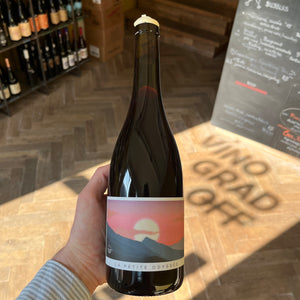 Notes of dried dates, wild herbs, blackberry jam, cinnamon, violets, pomegranate.  
Juicy and seductive smooth red. Southern fruitiness, lovely acidity, irony minerality/salinity. Full flavoured and light at the same time..  
Try it with roasted meats, hearty dishes, pastas with meaty sauces and grilled vegetables.

Grapes: 52% Merlot, 22% Abouriou, 26% Cabernet Sauvignon.
No synthetic products in the vineyards. Native yeasts, no fining or filtration, minimal SO2 at bottling. All grape are fermented separately. Abouriou undergoes short 3 days maceration with whole bunches, Merlot and Cabernet Sauvignon is macerated for 3 weeks. 10 months of aging in barrels. 
Crafted by Antoine Bernardin close to Toulouse on the terraces of the Garonne river, Lavernose-Lacasse, South-West of France.