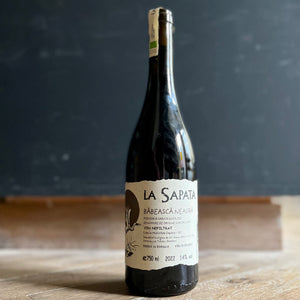 Dark, ripe fruit, prune, bramble, black cherry, cacao and a touch of leather on the nose. Fruit forward, youthful soft, dark red with lots of flavour!
Try it with pasta with black olives, Moussaka, pork chops with ratatouille, charcuterie. 
Băbească Neagră is an eastern European dark-skinned grape found in Romania, Moldova and Ukraine. The earliest mentioning of the grape date back to the early 14th century. It is believed to been grown in the region for 2000 years and is very popular with locals. Translated, Babeasca Neagra means "black grandmother's grape".
Certified organic/biodynamic practices in the vineyard. Natural vinification wth native yeasts in stainless steel. 10 days skin contact. Not filtered. 
Alc. 14%
La Sapata is a collaboration between Roberto di Filippo and Roberto Pieroni, with 20 hectares of vineyards in the hills surrounding the Danube delta in southeastern Romania.