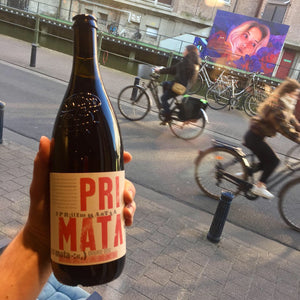 Nat Cool, naturally cool and funky, is an innovative concept created by Niepoort with the aim of a bringing together various different producers to produce light, easy-drinking wines. The Primata is the result of Dirk Niepoort giving his cellar master Luís Pedro a "push" to make his own wine in 2016.

The grapes for this wine stem from vineyards growing at an altitude of 600m in the Douro Valley, more specifically in the Tabuaço region. The character and lightness of these high-lying vineyards with their granitic slate soils as well as the structure of the Douro grape varieties combine with the "Natcool-factor" of "less if more": minimal intervention in the vineyards as well as in the cellar. A minimalist winemaking concept where the raw material has the biggest say!

VINIFICATION
Half of the grapes for the Primata Natcool are harvested from a Touriga Nacional vineyard while 50% come from old vines, with all fruit stemming from the Tabuaço region of the Cima Corgo. Whole bunches were lightly foot-trodden so as to extract some juice without damaging the grape skins. They were then left to spontaneously ferment and macerate in lagars before being pressed into stainless steel tanks where the wine completed malolactic fermentation, aged for 6 months and also naturally stabilised during the winter.

Serve chilled! Naturally cool!

TASTING NOTES:
Going towards ruby hues, this wine's appearance glows with concentration and vivacity.

On the nose, the wine's complexity reveals itself through a myriad of aromas including red fruit such as cherries, floral hints and a contrasting herbaceous touch which rounds off the aromatic profile and adds another dimension.

The palate is characterised by a structure which is light and delicate but also offers a pleasant tannic backbone. This is a straight-forward red providing plenty of drinking pleasure.
FOOD SUGGESTIONS:

Pair with white meats and light dishes such as salads and snacks.

WINEMAKER: Niepoort (Vinhos) S.A
REGION: Douro
SOIL TYPE: Schiste
VINEYARDS: Tabuaço-Cima Corgo
GRAPE VARIETIES: Tinta Amarela, Touriga Franca, Tinta Roriz, Tinto Cão ,Touriga Nacional
ALTITUDE (M): 600
HARVEST METHOD Hand picked
MALOLACTIC fermentation in stainless steel tanks
FERMENTATION in Lagar
AGEING: 6 months in stainless steel tanks
ALCOHOL (%): 11.2
TOTAL SO2 (MG/DM3): 56
PRODUCTION: 6000 Bottles (1L)
SUITABLE FOR VEGANS & VEGETARIANS