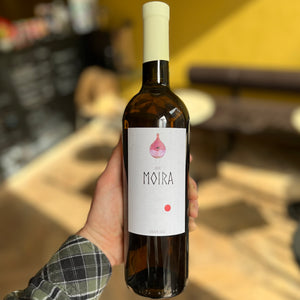 This wine was produced in tiny volumes – only 280 bottles!
It is made of the absolutely rare grape sort called Tchkapa which is indigenous to the Kartli region of Georgia and was popular in the past but survives in only a couple of tiny vineyards now. Although it is little known to the public, its nose and pallet are so distinct that from the very first sip you make, you become its adherent. Hence – the name MOIRA – the goddess of fate.
This is literally a "wild wine"! The grapes from an organic vineyard were fermented by wild yeasts, with full skin contact, and with no chemicals added in the process. Unfiltered.
This unique, very complex wine has a strong body and an Intense, pleasant nose and pallet with smoky tones and aromas of tangerine peel and linden honey. Opens long and slow in the air, which means, decantation is strongly recommended. To fully appreciate it, please use the glasses you would for full-body red wines.
Serving temperature: 12-13 C.
Winemaker Andro Barnovi is the founder of Wine Artisans, a boutique winery located in Tsedisi village, Gori District, eastern Georgia.