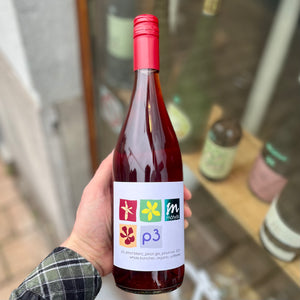 Deliciously juicy, light, fruity, smooth. Red berries, field flowers, pomegrante, blood orange. Unique colour and character. Perfect on its own, with finger food, smoked meats, red pastas and pizzas. Serve chilled.
Organic farming, natural winemaking, wild yeasts, unfiltered, unfined, low sulphite, red and white grapes together (p3=pinot blanc+pinot gris+pinot noir), 30 days skin contact, 10 months oak barrel ageing. 
Crafted by Mátyás Family Winery using organic and biodynamic farming methods and traditional winemaking techniques with minimal intervention.
Strekov region, south Slovakia.