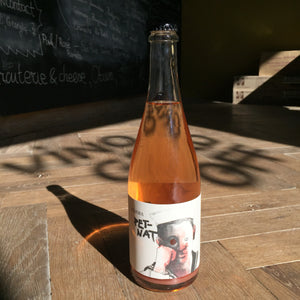 Pinky, fruity, gentle, rustic, soft bubbles, great for a celebration, aperitif or to accompany sushi, smoked salmon, scampi, brie. 
Serving temperature: 7-9°C
50% Refosco, 50% Riesling Italico grapes. Organic natural wine, nothing added, nothing taken away. Native yeasts, no filtration, bottling according to moon phases, no additional sulphur, no disgorging, wine with sediment. 
Pét-Nat is the abbreviation for the French term pétillant-naturel, that stands for a naturally sparkling wine made with the ancestral method (méthode ancestrale). The wine is bottled before the first fermentation is finished, the bubbles  are naturally produced carbon dioxide from the sugars present in the grapes. This method is at once very simple and very difficult, due to the unpredictability of the end result. It produces rustic but soft, cheerful, and very fruity sparkling wine that reflects the terroire of the region in which it grows.
Fedora, Kobal family, Vipavska brda, western Slovenia.
Fedora's stories.
We enjoy wine. It makes us ponder, take pleasure, remember. We tell stories of Fedora and of the history of our family and our home. Are they true, altered, or fake? We let you be the judge. Every wine has its own story.
Mermaid.
Our grandfather, who drove wine to Trieste told the story of how the sea once got his attention. He saw a mermaid whose beauty and grace surpassed anything he had ever seen. The nymph tried to convince him to join her. With just one move she changed the direction of the wind – a nearby boat's sail crept and hit the sailor on the neck. Grandfather watched this storm in the sea and forgot he was transporting wine. The wagon with the wine leaned over and the barrels rolled off to the sea. He did not care about it; he had seen the most beautiful being which would be cemented in his memory forever. We dedicated him our sparkling Pet-Nat, who, like the sea after the storm, only when it's calm reveals the narrative of an unbounded love.