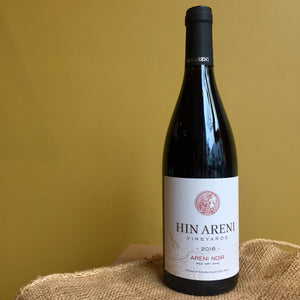 Ripe blackcurrant and peppery aromatics. Exotic, smooth and elegant red from an old ungrafted Areni Noir grape. 
Great match for roasted lamb, grilled mushrooms, hard cheeses, cured meat. 
Areni Noir (Sev Areni in Armenian) grape is one of the most treasured indigenous grape varieties of Armenia. The vines are grown on original rootstock (ungrafted), as the vineyards planted with Areni Noir are Phylloxera free. Grown in the western part of the Vayotz Dzor region, along the Arpa river bank, on volcanic soil, in the area where the oldest winery in the world (Areni-1 dating back 4100 BC) has been excavated.
Harvested by hand, aged in Caucasian oak barrels and partly in stainless steel. 
Hin Areni winery, Areni village, Vayotz Dzor region, southeastern Armenia.