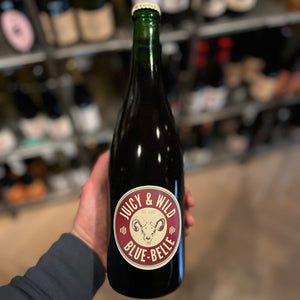 Unique unfiltered blend of lambics macerated with Muscat bleu* grapes (dark-skinned grape) aged in oak barrels. 
Fruity, juicy, fizzy red lambiek with funky yeastiness and mild sourness. Very refreshing! 8% alc.
Spontaneously fermented, unfiltered, matured in oak wine barrels.  
*Muscat bleu is a red/black wine and table grape variety, a hybrid crossing of Garnier 15-6 and Perle noire grapes.
Crafted by Lambiek Fabriek, Sint-Peters-Leeuw, Flemish Brabant with grapes coming from Wijndomein Hoenshof in Belgian Limburg.